Tech companies are quickly bidding their goodbyes to the 3.5mm headphones jacks, which has widely opened opportunities for wireless headphones. Though many people believe that wired headphones offer a better audio experience, the epitome of portability and convenience competes well with them.
We do not blame you for preferring wired headphones. Those spooky stories about awful sound and poor battery life scare many people. But deep down, we all want to get rid of those tangling wires while we are working out. Read here: Latest Gadget News
So if you are looking to cut the cord, but do not want to try a dozen pieces before you stick to one, keep moving down this guide. You need to know which wireless headphone will not let your expectations down- sound-wise and power-wise, so, here we are with the seven best wireless sports headphones.
7 Best Wireless Sports Headphones Available in India
Jabra Elite Active 65t
The powerful performers from Jabra ended Apple's winning reign with Apple AirPods. The fully sweat-resistant in-ear wireless headphones beat AirPods in terms of sound quality. The thing people love most about these is the engineering.
They are designed to fit securely in your ear while taking care of comfort. Sound quality is excellent and two microphones, each on one side, adds up for a brilliant calling experience.
Jabra re-engineered these after the Elite Sport and unlike them, these do not have any heart rate monitor, which extends its battery life. You get a decent 5 hours of battery life that goes in-line with Apple AirPods. But Jabra again takes a lead with two more charges included in the headphone case.
The quick charge option helps you get 1.5 hours of juice in just 15 minutes. Moreover, the sweat-resistance with an IP56 rating make it better than the mostly IP55 models. Someone can argue that they are a bit tight and including motion sensor was not necessary as it would have pulled the price but when it comes to sound quality, no one can argue that they are one of the finest sports earphones. Read here: Latest Mobile Phone News
Bose SoundSport Wireless
One of the most comfortable in-ear buds out there, Bose SoundSport Wireless have quite a following in sports wireless section. The sweat-resistant wireless headphones have a great sound and fit perfectly with the help of winged tips. Over that, the headphones perform fine while making calls too. The headphone packs an auto-off feature that helps to preserve battery.
Talking about the cons, the headphones are not heavy but are little bulky and the earbuds also protrude noticeably while on ears. The battery life ends in 6 hours but the putting all things together, the wireless headphones are a fair purchase for sports buds. Read here: Latest Smart Watch News
Bose SoundSport Free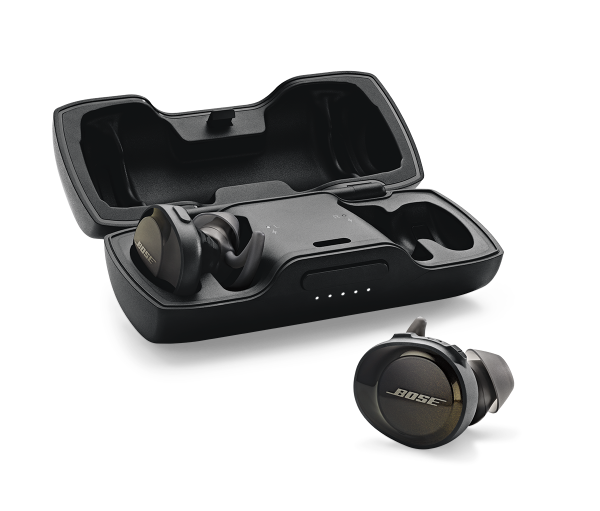 Here we have a have a totally wireless earphones set that offers richer sound than iPhone 7 earbuds. Moreover, they also offer a more secure fit than Apple Bluetooth earphones. These durable and water-resistant set from Bose has a decent battery life and a case with two extra charges available.
If we highlight the cons, the buds from Bose again stick out from ears, making it weird to look. Moreover, the case is also a bit too large when compared to iPhone 7 headphones case or Jabra Elite 65t's case. Overall, Bose has managed to upgrade software and drop the price to make it the best sounding totally wireless earphones. Read here: Latest Tech News
JBL Endurance Sprint
The secure and comfortable fit and clean sound from JBL puts Endurance Sprint at the fourth place among seven best wireless sports headphones.
The Bluetooth sports headphones are priced moderately being spectacular in sound and fitting. They can be a great running headphone choice. The fully waterproof design with IPX7 rating makes eligible to stay 1m deep underwater for up to 30 minutes without any damage. JBL Endurance Sprint has touch controls, which can be little finicky at times.
To sum it all up, JBL Endurance Sprint is no less than any other headphone listed here and with a price tag of just $50, it is even more fitting than anything else.
Sony WF-SP700N Wireless In-Ear Sports Headphones
Another brand that impresses with its audio devices is Sony and we can argue that Sony, if not the best, is one of the best brands for audio devices. The Sony WF-SP700N Wireless In Ear Sports Headphones come with built-in noise cancellation wraps up outside noise and it comes to a great music experience.
The charging case available with these offer two additional charges but we do not have a good battery life at only 3 hours. Plus, you will find it awkward to get them into the case. Though the device does have few downfalls, it still outperformers a ton of other wireless earphones through a better sound and powerful bass.
The Beats X
Something we used to love a few years back about wireless headphones was the neckbands. The Beats X features similar neckband and is very lightweight and comfortable. The best part comes for Apple devices as it has high compatibility with most of them.
The water-resistant Bluetooth device offers a secure in-ear fit and incredible sound quality. You will find them perfect for everything from sound to portability, but some might feel that the cord on the device is a bit longer.
Also, there is no Micro USB support and it charges through Lightning. The device is worth buying if you are done with your Apple Bluetooth earphones and want something sports-friendly.
The AfterShokz Trekz Air
The last but not the least in the seven best wireless sports headphones is the AfterShokz Trekz Air. When they started 6-7 years ago, they did not have the products one would recommend to someone. But the company has come a long way and now we have one of the best wireless headphones from AfterShokz called Trekz Air.
The bone-conduction earphones are comfortable to wear and provide improved sound while also keeping you open to the outside world. While you might find it a bit behind others in sound, the device is certainly a likable sports earphones that don't entirely make you deaf.