Oppo Reno 6Z Specifications: Handset maker company Oppo, Oppo Reno 6 Series The next smartphone of the company is expected to be Oppo Reno 6Z. Remind that Oppo Reno 6, Oppo Reno 6 Pro, and Oppo Reno 6 Pro + have already been launched in this series. Recently a tipster has shared some possible specifications of the alleged Oppo Reno 6Z. This Oppo mobile phone is expected to be powered by MediaTek Dimensity 800U chipset for speed and multitasking.
Tipster Abhishek Yadav has given information about Oppo Reno 6Z by tweeting, it has been learned that apart from MediaTek Dimensity 800U SoC, the phone will have 30W fast charging support and a 60Hz refresh rate.
Also read Huge Discount on OPPO A53s 5G: Up to Rs.100 off offer, 100% money-back guarantee as well

It appears that the Oppo Reno 6Z smartphone will be a weaker version of the already existing Oppo Reno 6, which is because the Oppo Reno 6 uses a 90Hz refresh rate, 65W fast charging, and MediaTek Dimensity 900 SoC.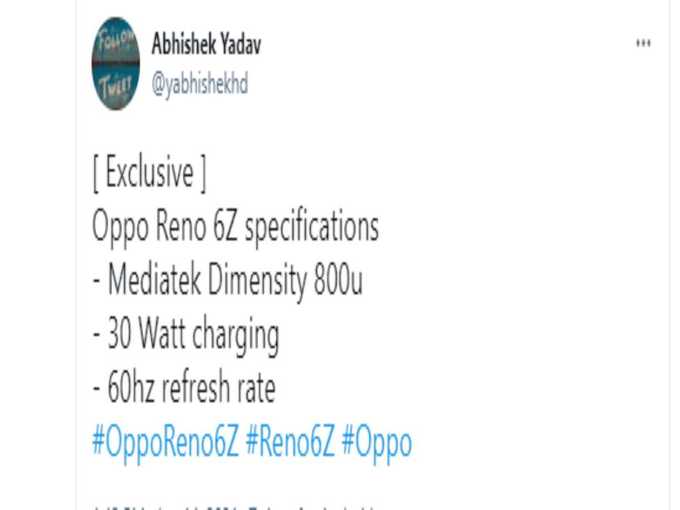 Oppo Reno 6Z Features: Know about Oppo Mobile (Photo- Twitter/Abhishek Yadav)
Interestingly, the MediaTek Dimensity 800U processor has also been given in Oppo Reno 5Z 5G. The Oppo Reno 6Z smartphone is expected to come with 5G support. Let us tell you that apart from the chipset, fast charging capability and refresh rate, no other information has been given by the tipster at the moment.
Samsung Galaxy M32 listed on Google Play console, know what will be special in this phone
It is being speculated that there was a gap of four months between the launch of Oppo Reno 5 series and Oppo Reno 5Z, so after the launch of Oppo Reno 6 series last month, Oppo Reno 6Z can be launched in September. The thing to note is that this is only an estimate.
Also read: Oppo and OnePlus, two legendary smartphone brands merged